About Us
Your best decision, 60 years and counting…
When we say we're your best decision for anything automotive, we mean it. Precision Toyota of Tucson has served Tucson and its surrounding communities for over 60 years. Owned and operated by the same local family since 1954, we take great pride in being a productive and vital part of our beautiful city.
But we're not only a vibrant presence in Southern Arizona. We're recognized as one of the nation's best Toyota dealerships, having earned Toyota's coveted "President's Award" many consecutive years in a row. This decoration goes to dealers who display high standards for customer satisfaction in all facets of the business – from service to parts to sales.
"Board of Governors", a select group of the Top 5% of Toyota dealers in the nation. What's more, we're one of only a handful of dealerships nationwide to have received all seven possible "Toyota Recognition Awards". These honors include:
Additionally, we've twice earned membership in Toyota's exclusive
Toyota's Circle of Excellence
Parts and Service Advisory Boards
Customer Service and Parts Excellence
Customer Service Advisory Board (recognizes the top 50 Parts, Service and Customer Service dealers in the U.S.)
Sales Excellence
Parts Management Excellence
Customer Relations Management Excellence
As these awards and our decades in the community attest, our #1 goal is to leave our guests completely satisfied. It's what makes Precision your best decision when buying or servicing a New Vehicle or Pre-Owned Vehicle. We look forward to serving you and, if we're so fortunate, exceeding your expectations and welcoming you to the Precision family.
Read Our Reviews Browse Our Inventory Schedule Service
Expert customer care, honed over decades…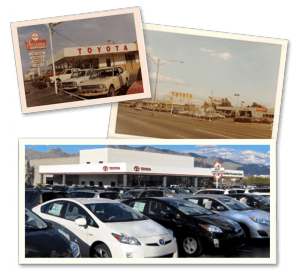 We couldn't be prouder of our 60-year history in Tucson. From our small beginnings on a Stone Avenue lot in 1954 to our all-new dealership on Wetmore Road at Auto Mall Drive, we've been lucky enough to work with generations of Southern Arizona customers. We look forward to doing the same for generations to come.
1954
Precision Motors opens for business on Stone Avenue.
1965
Precision begins a partnership with Toyota, a new Japanese import.
1970
Due to high quality and demand, Precision begins selling Toyotas exclusively.
1990
Over 20 years, Precision Toyota develops into a trusted new and used vehicle dealer, opening its own service, parts, and body shop facilities.
1997
Precision Toyota of Tucson expands to its current home on Wetmore Road at the Tucson Auto Mall.
2000
Precision relocates its Collision Center to a modern, 21,000 sq. ft. facility on Roger Road, one block from the main dealership.
2014
Precision Toyota of Tucson embarks on its biggest expansion yet, transforming its current site into a 130,000 sq. ft., state-of-the-art auto dealership and service facility.
2016
Precision moves in to its brand new home on Wetmore Road, making us one of largest Toyota dealerships in the country. We can't wait to see what comes next.