Precision Toyota Collision Center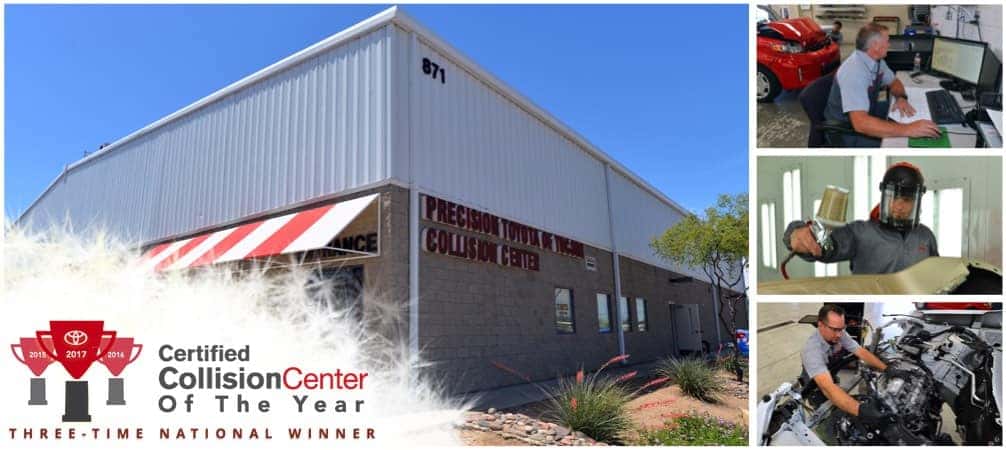 One of Precision Toyota's most distinguishing features is our 21,000 square foot Toyota Certified Collision Center. While most dealerships outsource their bodywork to third-party body shops, we perform our sophisticated paint and body repair in-house.
From pesky door dings to major collision repair, our award-winning team has the equipment and expertise to restore your vehicle to Toyota's exacting standards. And we don't only work on Toyotas – we're certified by all major insurance companies to do auto repairs on all makes and models, new and pre-owned.

We're proud to have been named Toyota's Certified Collision Center of the Year three years in a row. Nearly 190 Toyota Collision Centers across the country are in the running for this single award based on team achievements and customer satisfaction. We couldn't be prouder to receive this national honor from Toyota, back to back to back.
Our cutting-edge facility is operated by skilled technicians and further supported by our seasoned Parts and Service teams. All work together to perform repairs correctly, efficiently, and to our customers' utmost satisfaction.
Additionally, 24-hour towing service to our Collision Center is available through our friends at Tucson Towing. Please contact Tucson Towing at (520) 296-8609 and let them know you're working with us.
SCHEDULE SERVICE
CONTACT COLLISION
Frequently Asked Questions:
Where is the Collision Center located?
Our Certified Collision Center is located just two blocks south of our main dealership at 871 W Roger Rd. in Tucson. The Collision Center is open weekdays from 7:30 a.m. to 5:30 p.m. You can reach our friendly experts there directly at (520) 319-0290.
Why choose a Toyota Certified Collision Center?
Toyota's Certified Collision Center program is the industry benchmark in quality auto shop operations. Comprehensive training, production processes, and equipment requirements are just a few of the key components that let a Certified Collision Center like ours truly repair your vehicle to the same standards as when it first rolled off the assembly line.
During this unique time, incoming Collision Center guests will notice new signage and procedures designed to increase physical distancing within our body shop. Watch this brief video to learn more:
Call us at (520) 319-0290 to schedule your body estimate or ask any questions.
SCHEDULE SERVICE
CONTACT COLLISION