Toyota Windshield Wiper Blades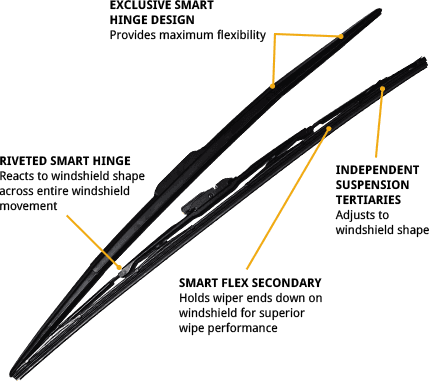 From winter storms to summer monsoons, your windshield wipers are vital in keeping you safe on the road. When it's time for wiper blade replacement, we recommend Genuine Toyota Windshield Wiper Blades – OEM-approved and made specifically for your Toyota.
Toyota's Sightline Wiper Blades offer the latest wiper blade technology. Each blade has been extensively tested and optimized for exceptional performance. Features include:
A fluorinated carbon coating on the rubber element. In other words, these blades reduce noise and improve wipe quality.
A rigid frame with insert-molded hinges that improve lateral stability.
The fit, function, and quality of a Genuine Toyota Part made especially for your vehicle.
When should I replace my wiper blades?
Wiper blade wear can be caused by several factors. In Southern Arizona, the usual factors include long subjection to extremes in temperatures, and exposure to the elements and debris. In between your regularly scheduled maintenance, you can monitor the condition of your blades by checking for these telltale signs of wear:
Streaking
Chattering
Smearing
Squeaking
Cracking
Bent blade assembly
Contact our Service Center experts for more information.
SCHEDULE SERVICE
CONTACT SERVICE